Innovative aeronautical turbo-alternator
2022-09-09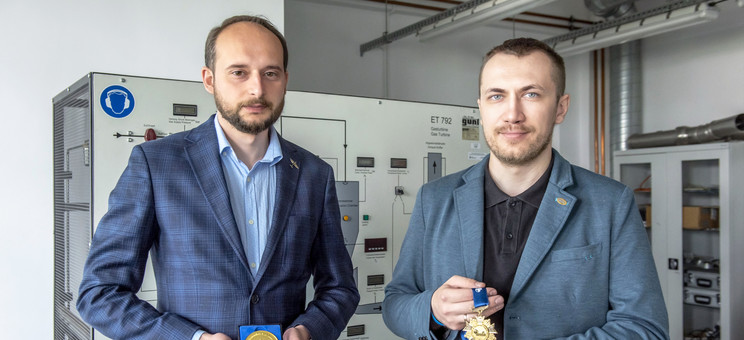 A team of employees from the Department of Aerospace Engineering at the Faculty of Mechanical Engineering and Aeronautic sunder the direction of Arkadiusz Bednarz, PhD, Eng. has developed an innovative aeronautical turboalternator. The invention was presented at the INTARG 2022 international trade fair, where it was awarded a gold medal, and was also one of the few inventions to be recognised by the World Inventions Intellectual Property Association, based in Taiwan.
About the invention
The turboalternator is the result of work carried out as part of the Innovation 4.0 Incubator project implemented by Rzeszów University of Technology. The innovative aeronautical turboalternator integrated into the engine components allows for a more environmentally friendly and economical engine start-up, energy recovery during the operation of the aircraft engine, reduction of engine weight and possible braking in emergency/hazardous situations.
Advantages of the solution:
greener and more economical engine starting,
energy recovery during aircraft engine operation,
reduction of engine weight and possible braking in emergency/hazardous situations.
Induction coils are mounted on the inner band of the compressor steering wheel (or on the inner flange of the compressor inlet guide vane [IGV] housing). Magnets are placed on the rotating shaft (compressor drum or rotor unit shaft). During the initial starting stage of the engine, this system works as a starter. During the start-up of the motor to minimum speed, the electrical assembly would help to achieve the optimum rotor rotational parameters required for start-up. This use of electricity to drive the rotor assembly will minimise the number of engine side systems.
During steady-state operation, the turbocharger assembly would produce electricity for airframe and engine needs. Any surplus could be stored in batteries as electricity, which could be used at a later start-up to drive an additional electric motor or to eliminate the low-pressure turbine driving the external duct fan.
The design presented here proposes to use the compressor stage and compressor drum as an induction motor. This is a proposal to create a hybrid turbine-electric engine.
Back to news list